24 Mar

Plum Island Fishing Show. Tomorrow! 21st Year
The 21st Annual Fishing Show is coming on March 25, 2017!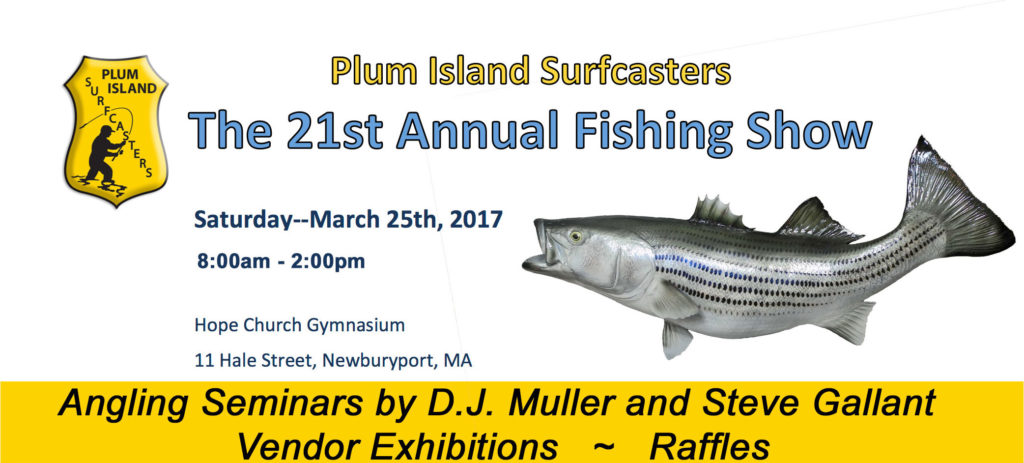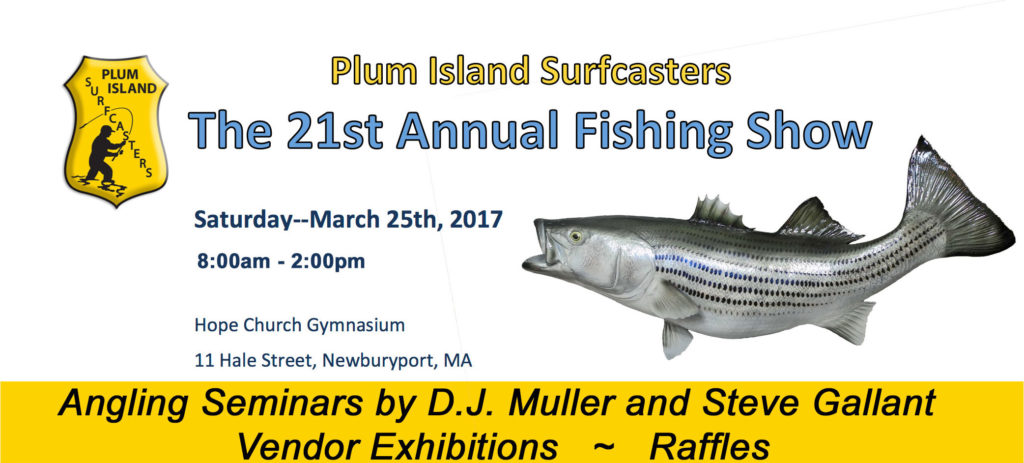 Plum Island Surfcasters had a very successful show last year and we are looking forward to a bigger and better show this coming year.   There will be a separate room with an improved sound system for the seminars.  This will leave even more room for vendor tables in the main room.
Visiting fishing shows in the off season is a great way to get ready for the coming striper run.  We have two outstanding fishermen coming to help us improve our fishing strategies and skills.
D. J. Muller
"Hit 'Em Where They Live"
An Exposé on Finding and Catching Striped Bass
Based in New Jersey, but fishing as far north as Block Island and Cuttyhunk, D.J. Muller is a renowned fishing guide and speaker.  He writes for various fishing magazines and gives seminars around the northeast.  Come and learn how to turn yourself into a legit bass hunter.  Stop the confusion and start catching more bass.  You will learn:
How to understand striper terrain and areas where they like to gather.
Reading the water.
Conditions in which bass like to feed.
How to choose the correct equipment for the task at hand.
The proper lures for where you are fishing.
How to properly present artificials to linesiders.
Guaranteed to make you a better surfcaster!
Steve Gallant
"The Versatile North Shore Surfcaster"
A native of Ipswich, MA, and current resident of Plum Island, Steve Gallant knows our local waters well.  His presentation will describe the diverse fishing environments that the North Shore Surfcaster will encounter from the marshes and estuaries to the open beaches and  rocky shorelines.  He will discuss what to look for in each of these areas, what to bring, and how to fish it.  All the equipment needed to effectively and safely fish these areas will be covered.
Raffles!
At the show, we will also be raffling off thousands of dollars worth of fishing gear.  You can see a list of major items up for raffle here (coming soon.)  We are soliciting merchandise as prizes for our raffles.  Anyone willing to donate prizes should contact John Liss at  (978) 994-6204.
Club Members may volunteer two hours of their time for free admission to the show.  We need help with collecting admissions at the door,  serving food, signing up new members, running the raffle, and a few other things.  Check out the volunteer opportunities page for information on how you can help us put on a terrific event.
New Gear!
Some of the best fishing gear will be on display for sale by local tackle makers.  Vendors who would like a table at the show should contact Larry Craig at (978) 828-4441.  A list of vendors displaying at this year's show can be seen here.