05 Apr

Rocks Village ~ West Newbury Cleanup on Sunday April 23
April 23, 2017 at 8:00 am



Event Overview
This is a community service event available to everyone. Each year in April, Eric Roach organizes a cleanup at Ferry Park in West Newbury.  It is a beautiful stretch of the Merrimack River just upstream of Rocks Bridge.  This bend of the river is a natural deposit point for river-born plastic.  Please join us on Sunday, April 23, 2017 from 8:00 AM – 10:00 AM to provide a little stewardship to this picturesque spot on the tidal Merrimack.
This spot is also known as "Rocks Village."  It is a favorite shad-fishing spot for many of our club members.
The following will be there:
Coffee and Donuts

Contractor Bags

Gloves (I have some light pairs, you might want to bring your own set of heavier gloves)



If you like, please bring your waders — the tide will be high that morning. A pocket knife can also be useful for cutting stray fishing line. The town of West Newbury will pick up the trash — there's no need for any of us to haul it away.
You can find directions and FAQs below, but feel free to send me an e-mail at eroach1970@gmail.com if you have any questions.
Thank you for donating your time to a worthwhile cause.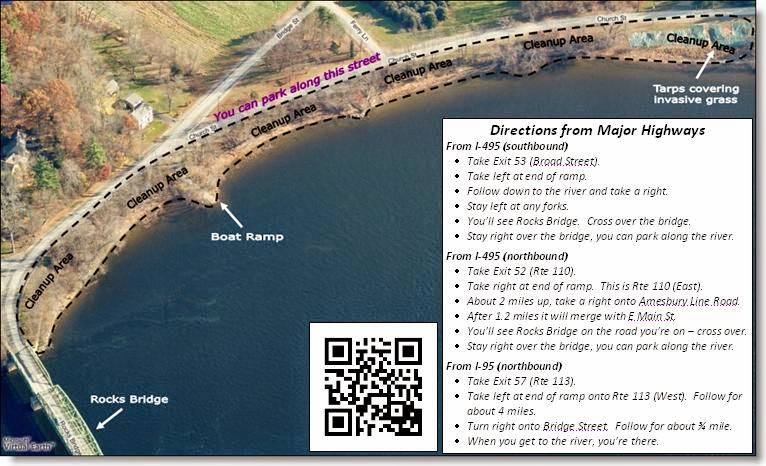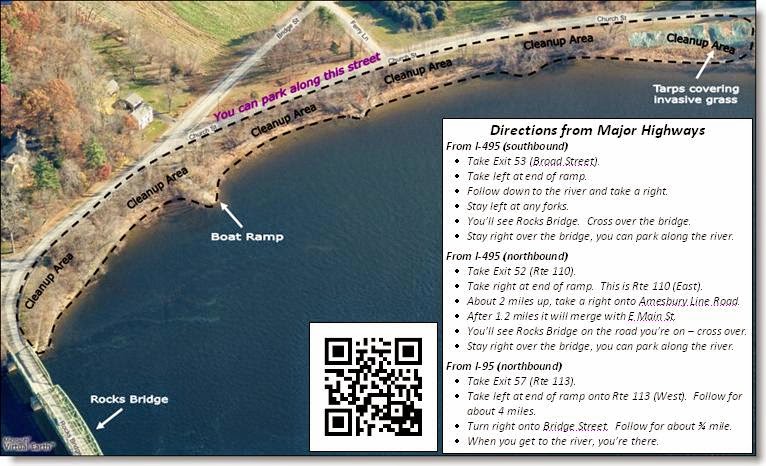 Frequently Asked Questions:
"How do I get there?"
Ferry Park is located just upstream of the West Newbury side of Rocks Bridge, approximately where Church Street and Bridge Street intersect. For exact directions, see the link above the map; the QR code is for the parking area on Church Street and will allow your smart phone to map exact directions from your location.
"Where can I park?"
 Please see the map above for details.
"How big is the area we are cleaning up?"
The area is about 1/3 mile long x 50′ wide.  See the map above for aerial photo.
"What should I bring?"
Work gloves and trash bags will be available. A pocket knife can be handy to cut rope. Most debris is near the high water mark so a pair of waders or high boots can be helpful (waders are not necessary to participate — there's plenty of trash on dry land).
"What concerns should I be aware of while participating?"
The cars run pretty fast along Church street so please be careful and keep an eye on children near the road. Pants and long sleeves are a good idea while picking trash out of the brush as there is some poison ivy. Most of the trash along the water's edge consists of plastic and styrofoam but there is some jagged debris — please use common sense when handling glass and metal. The banks are steep in some areas so sturdy footwear is a must.
"Are there bathrooms at the park?"
Unfortunately no; you will have to drive approximately 1 mile into town to use a business's rest room.
"What do we do with the trash we pick up?"
We will leave our bagged trash in a couple of big piles along the roadside. The West Newbury DPW will pick it up.
"Who can I contact if I have questions?"
Please e-mail Eric Roach at  eroach1970@gmail.com.
–Eric Roach